When I scroll through Pinterest, the constant question running through my mind is 'Can I make that?'  I see all these beautifully unique art pieces and I brainstorm how to DIY them all.
Although I haven't personally tried any of these, they are all on my art bucket list.  So maybe one day I will have tutorials.  But for now, I will share my inspiration.  If any of you brave souls try some of these ideas I'd love to know!
The Over-Sized Animal Head Print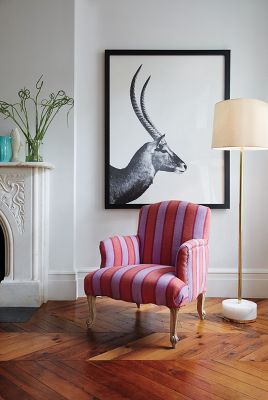 Taxidermy is all the rage these days.  Change it up and with some framed animal head art. There is an abundance of free vintage animal prints, so it shouldn't be too hard to find a quality sketch of your favorite animal.  Kristine from the Painted Hive offers tips on how to increase the size of your image for print.
Then just take it to Staples and ask for an engineer print (they are super cheap), and frame.  Voila! Over-sized animal head art.
Paint Over Thrift Store Art
Spice up that boring old oil painting with some color blocking and neon!  The sky is the limit with this one, I mean seriously google this because there are some crazy awesome things people have done.
I personally would stick with the bright neons on a flower painting to start with.  What a totally awesome, completely funk piece of art that marries old with new.
Brushed Silhouette Art
I just love this painting and I think it's definitely DIY-able.  Cut a silhouette out of a piece of paper and use temporary adhesive to stick it on your canvas. Then take a large brush and use zig-zag/wavy strokes to paint down your canvas.
Peel off the paper and zoila! Instant designer-worthy art.  You could even use different paint methods like splatter or color blocking.  I really need to try this one…
'Dipped' Art
Another awesome way to bring new life to those thrift store pieces.  Use different colors or all the same.  I personally love the mystique of the paint ending just below the eyes.
You could play around with this idea and do other geometric shapes over the old art for a fun and modern gallery!
Pixel Painting
Recreate a favorite picture with watercolors.  You can find a full tutorial at Wit & Whistle. This is basically as easy as those paint-by-number pieces we did as kids.
Make it sentimental by using a photo from your favorite vacation or first home.  The sky is the limit here. I'd even like to see someone try it with even smaller pixels so the original image is more recognizable.  Or, instead of watercolor, use paint chips!
Stone Mosaics
Wishing for a bit more marble in your life, but not up for a tile job?  Create a wall mosaic out of your favorite stones.  You get the look of luxury for a lot less money and upkeep than if you got new countertops.
My local Habitat for Humanity Restore stocks tons and tons of tiles. Find the ones that really speak to you, then invest in a tile cutter and arrange away!
Blob Paintings
Ok, so I guess they are called abstract.  But if this painting is thousands of dollars and ultimately couture, why not make a blob painting of your own.
It can't be that hard, right?  Antique the paper a little bit, then paint away. Heck, have your five-year-old do it for you.  Then tell all your friends you bought it at an art gallery in France.  I bet they won't even bat an eye.
Inverted Color Blocking
This one couldn't be simpler.  Just pick your favorite colors and frame with a white backdrop, and frame a matching white paper with the colored backdrop.
It's fun take on color blocking, looks chic, and can easier be made to fit your color scheme.  Think of the variations you could try!
I'm hoping some of these projects are in my near future. Have you ever tried to DIY a designer piece? I've tried once, it was fun and I'm itching to surf West Elm for more inspo.